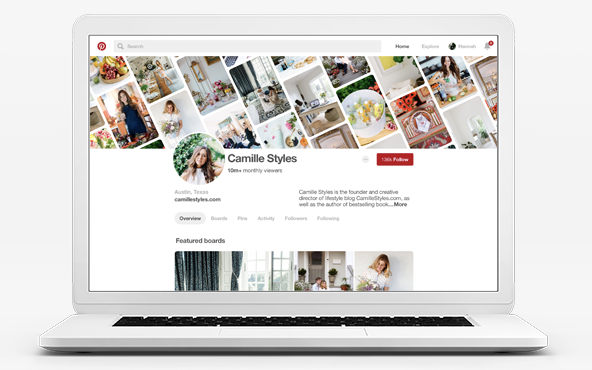 People go to Pinterest for possibilities—their next haircut, their first tattoo, dinner recipes their kids will actually eat—and to design all parts of their lives. While social networks are fueled by likes and living in the past, Pinterest is all about making plans, getting offline and trying things IRL (in real life). A social media platform dominated by a female audience. There aren't too many social media platforms that people will admit are 'fun', but with Pinterest, it is not uncommon to hear the word fun and Pinterest in the same sentence.
Pinterest is a paradise for realists and dreamers, and a place you can be both. Create boards such as recipes that you will actually crockpot later in the day, or pin your dream houses and design ideas, even if that home is far from your current reality. Personally, our team loves Pinterest! We all have personal accounts, where we pin things from funny quotes, to healthy recipes, great outfits and even dream about that future wedding or mansion (haha)! Pinterest for your business on the other hand, is a whole different ball game. There are endless possibilities and strategies to get noticed by Pinners. To make it even easier for you to connect with your audience and get more eyes on your content, Pinterest is rolling out a new business profile that gives you more control over how your business is represented.
Refresh your page using featured boards:
Pinterest has two great new features for businesses: profile cover and pin showcase, both which you should be using to your advantage. Your profile cover is either your recent activity, latest pins, or one board of your choosing; whereas your showcase lets you highlight seasonal content, or your all-time best boards. The showcase is a great new addition, especially for businesses, because you can use the feature board to your advantage and highlight your top products and services, essentially having shoppable pins right there on your main page. By featuring your popular items on your showcase, they are upfront and center, which will help convert profile views into sales.
Pinners are Planners
Pinners are big-time planners. They tend to start searching twice as early as people on other platforms, because Pinterest helps them decide where to shop and what to buy (5 Pinterest internal data, 2018). They use Pinterest to find easy ideas and new twists on the traditional, for both everyday celebrations and major milestones. By reaching Pinners at an early stage of their planning process, you're able to place your products or services in front of them at a time when they're more open to possibilities– 45 days early is a good number to start with.
Following tab to help people find your content
"In talking with Pinners, we found that some people only wanted recommendations, while others liked to curate their feed—and most people wanted both options. Now you have the choice to get inspired through personalized recommendations in your home feed, or switch over to a tab dedicated to the latest Pins from people you follow." – Pinterest
The new Following tab lets your followers see your latest Pins in the order you save them. Your followers are your biggest fans on Pinterest, and they are the first to see your latest pins. They're also the first to weigh in on which content they love most. The more your followers engage with one of your Pins, the more it gets shown in other places across Pinterest—like search results, feeds, and recommendations—for hundreds of millions of other Pinners to discover.
Consistency & Organization


Consistent, daily Pinning is better than adding a blast of Pins once a week! Plan ahead, and put aside 5 pins to upload (or pin) each day. As you do this, remember to keep your boards clean, and well-organized with proper labeling so people will want to visit and explore your Pinterest profile. Don't be afraid to let that Type A personality shine!
Pinterest is just like organizing your closet; you want to be able to find what you are looking for when you go in there, so organization is key! Same with Pinterest, you want your audience and visitors to easily navigate around your profile and find what they are looking for.

Organic and Rich Pins


This is very important! As you gain those followers on Pinterest, and more people are seeing your pins/boards each day, you essentially want Pinners to turn into sales (conversions). By adding a link to each of your pins, it allows people to click through to your website. There is nothing worse when seeing an amazing pin, whether it be a cute shirt or a piece of furniture, and not being able to purchase it because there is no link.
So add the link people!
Rich Pins are a type of organic Pin format that provide more context about an idea by showing extra information directly on the Pin. Rich Pins are a free product available for anyone on Pinterest. You can identify Rich Pins by the extra information above and below the image on closeup and the bold title in grid. You can use this to your advantage by adding a link directly to your website.
When adding these links, take the time to make sure they actually work. Sometimes we do things so quickly on our computers, we forget to review our work. Go in after you've pinned, and make sure your link leads right to your web page. You don't want to disappoint your followers, and/or lose a sale, just because of a broken link.
TIP: According to Pinterest, it's okay to have multiple Pins that lead to the same webpage. In fact, it can be beneficial to save a variety of images that might appeal to different types of Pinners.
8 Piece-of-Cake Ways to Get More Pinterest Followers

1. Post Original Content (Pins)
2. Re-pin Content from Others.
3. Follow People.
4. Use Keywords in Descriptions.
5. Run a Pinterest Contest.
6. Be There!
7. Link Pinterest to Your Other Social Websites.
8. Make Your Website Pinterest-Friendly.